2.8" Intelligent HMI UART TFT Display
Buy 10 for

US$15.62

each and save

3

%
Buy 30 for

US$15.20

each and save

5

%
Buy 50 for

US$14.77

each and save

8

%
Buy 100 for

US$14.35

each and save

11

%

Buy 500 or more

Quote Request


Shipping


Payment


Tax Info


Warranty


Return Policy


Continulty Supply
Shipping
We cooperate with DHL,FEDEX,TNT,EMS China Post and Singapore Post for shipment and choose the most appropriate one for the destination .A shipping cost estimate is displayed during online checkout based on the country you provide.
Payment
We  primarily use paypal to process secure online payments. Through PayPal, we accept MasterCard, VISA, American Express,Discover cards.We also accept payment by wire transfer and west union.
Tax Information
ALL prices listed on buydisplay exclude taxes,import fees, and customs duties. Customers may be subject to these fees.
All products are covered under our limited warranty, which provides all products are free of functional defects for a period of one year after receipt of order and all products are free of visual defects and missing parts for a period of 7 days after receipt of order.If a product was damaged during shipping or the order is incorrect, please notify us within 3 days after receipt of order.
Products under warranty can be returned for repair or replacement.Before returning a product, you must contact us for a Return Material Authorization (RMA).If you have a product out of warranty that you would like to repair, please also contact us.
We promise the long terms continuity supply.Some controller IC or glass cell may stop the production by supplier,we'll try our efforts to find the compatible ones as replacement.
Frequently Bought Together
This Item: 2.8" Intelligent HMI UART TFT Display
What's UART disiplay?
EastRising UART display is an LCD screen that uses UART serial port for communication. The user sends instructions to the serial LCD screen through the single-chip microcomputer, and the serial port screen will automatically complete all operations of drawing on the LCD. Due to the simple operation, even people who do not know any programming can easily develop the human-computer interaction interface they want.
EastRising UART display consists of two parts: the serial screen hardware and the attached serial screen software:
1. The hardware part includes processor, LCD screen, resistive touch screen or capacitive touch screen, FLASH storage, RS232 or 485 serial port chip, audio and video decoding chip, SD card slot, etc. Some models include WIFI, 4G, Bluetooth, voice recognition , face recognition, fingerprint recognition and other modules,
2. The operating software is generally divided into two parts, namely system software running on the UART display and interface development software UI Editor running on PC Windows operating system" ,UI EMULATOR for program debugging software.
The user first uses the UI Editor to make the "Project BIN file", and then downloads the compiled "Project BIN file" to the FLASH of the serial port display through the UART port or USB port or SD card of the UART display.
What are the application fields of UART Display?
EastRising UART displays are widely used in industrial automation, electric power, telecommunications, environmental protection, medical care, finance, petroleum, chemical industry, transportation, energy, geology, metallurgy, public inquiry and monitoring, smart home appliances, transportation rails, data centers, charging piles, electric power Dozens of industries and fields such as medical care, national defense security, and shared equipment.

What's the features of ER-TFT028A2-4-5465?
※

2.8 inch IPS TFT Display

※

240x320 Pixels

※

Superior Display Quality and Full Viewing Angle

※

Optional Resistive Touch Panel or Capacitive Touch Panel

※

Optional FFC Connection or Pin Header

※

Serial UART Interface

※

Realize What You See is What You Get through UI Editor

※

Three Methods to Update UART Display



◎

Using SD Card to Update

◎

Using USB Port to Update

◎

Using UART Port to Update
Attention: ER-TFT028A2-4-5465 doesn't support landscape mode.
What commands I can use?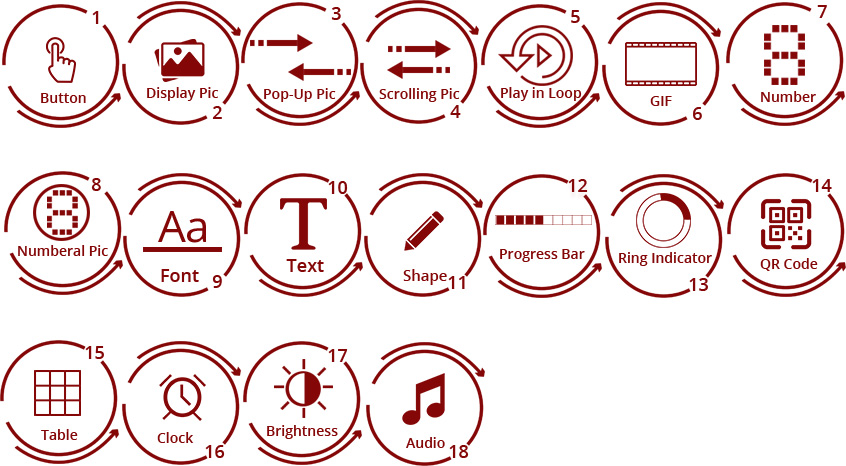 What's included in the package ?
| Number | Standard Accessory Name | Quantity |
| --- | --- | --- |
| 1 | 2.8 inch 240x320 pixels UART Display | 1 |
Datasheet for UART Display
| Format | Documents Name | Language | Update Date | Size |
| --- | --- | --- | --- | --- |
| | ER-TFT028A2-4-5465 Datasheet | English | Nov-17-2022 | 2.5M |
| | ER-TFT028A2-4-5465 Application_Note | English | Apr-01-2021 | 12.0M |
| | ER-TFT028A2-4-5465_3D Model | English | Aug-08-2023 | 3.9M |
Datasheet for Touch Panel
UART Display Developer Tools
| Format | Documents Name | Description | Version | Language | Update Date | Size |
| --- | --- | --- | --- | --- | --- | --- |
| | UI Editor | It's graphic UI compiler for creating UI simply,Microsoft NET Framework must be installed first. | V3_204E | English | Nov-22-2022 | 56.3M |
| | UI Emulator | Simulation Tool | V3_1310E2 | English | Nov-22-2022 | 70.5M |
| | UartTFT_Tool | It's the graphic integration compiler for writing command in text mode without using the graphic UI Editor. | V3.33 | English | Nov-22-2022 | 23.9M |
| | LT Vcom GUI | After starting the software, you can use the USB port to update the MCU (MCU_Code.bin) or update the SPI Flash data (UartTFT_Flash.bin).Tutorial | V3.21 | English | Nov-22-2022 | 19.0M |
| | LT_Uart_GUI_ | After starting the software, you can use the UART serial port to update the MCU (MCU_Code.bin) or update the SPI Flash data (UartTFT_Flash.bin).Totorial | V3.21 | English | Nov-22-2022 | 22.2M |
Tutorial Video for UART Display
Sample Projects for UART Display
(Run by UI Editor or UI Emulator)
More Information

| | |
| --- | --- |
| Gross Weight (kg) | 0.0400 |
| Manufacturer | EastRising |
| Continuity Supply | We promise the long term continuity supply for this product no less than 10 years since 2021. |
| Part Number | ER-TFT028A2-4-5465 |
| Display Format | 240x320 Pixels |
| Interface | UART |
| IC or Equivalent | N/A |
| Appearance | RGB |
| Diagonal Size | 2.8" |
| Connection | Pin Header, FFC-Connector |
| Outline Dimension | 50.20(W)x69.30(H)x2.8(T)mm |
| Visual Area | 44.80x59.20mm |
| Active Area | 43.20(W)x57.60(H)mm |
| Dot (Pixel) Pitch | 0.18x0.18mm |
| IC Package | COG |
| Display Type | TFT-LCD Color |
| Touch Panel Optional | Yes |
| Sunlight Readable | No |
| Contrast Ratio(Typ) | 500:1 |
| Colors | 65K/262K |
| Viewing Direction | 12:00 |
| Viewing Angle Range | Left:80.0 , Right:80.0 , Up:80.0 , Down:80.0 degree |
| Brightness(Typ) | 350cd/m2 |
| Backlight Color | White Color |
| Backlight Current (Typ) | 70mA |
| Power Supply(Typ) | 5V |
| Supply Current for LCM(Max) | 100mA |
| Operating Temperature | -20℃~70℃ |
| Storage Temperature | -30℃~80℃ |
Please send us quote request for part Number
ER-TFT028A2-4-5465
If you order quantity per lot is more than 500pcs or send email to [email protected]
Customers Who Bought This Item Also Bought