(All data in this article is from Mordon Intelligence.)
Market Overview
The OLED panel market has been valued at USD 22.83 billion in 2019 and is forecast to reach USD 46.55 billion by 2025, growing at a CAGR of 12.9% during the forecast period (2020-2025). OLED panels continue to be a significant display technology trend adopted across the world, with larger screen sizes, improved 8K resolution, and relatively new form factors.
Technological advances and increasing adoption of OLED in smartphones is driving the market. Investments made by companies like LG, Philips, Sony in development of OLED in smartphone is increasing. For instance, Samsung, after working on the technology for so long, is now making dual-curved displays incorporated in their high-end smartphones, which is not the case when compared to other Android-based smartphone manufacturers. Also, LG has been working on the technology too and has set its target to ship 2.8 million OLED TV panels in 2018, which is a 64.7% increase from 2017.
Government support for the development of OLED technology in various countries is driving the market. For instance, Korean government has identified OLED as a key export item for the country and started providing significant tax incentives for purchasing equipment for OLED production from local suppliers. Also The United Kingdom, which is a pioneer in the development of polymer light emitting diode (P-OLED) technology, received government support for OLED technology, for lighting applications.
Evolution of quantum dot and micro led technology is restraining the market. Quantum Dots are extremely efficient in applications such as TV, which can be brighter while using less energy than what would be required with separate RGB LEDs or blue LEDs with a yellow phosphor.
OLED Brief Introduction
OLED (Organic Light Emitting Diodes) is a flat light emitting technology, made by placing a series of organic thin films between two conductors. The smartphone display applications are most dynamic among other applications. Panel manufacturers are already displaying their OLED panels for companies venturing into foldable phones and laptops, such as Samsung, Lenovo, Intel (laptops), etc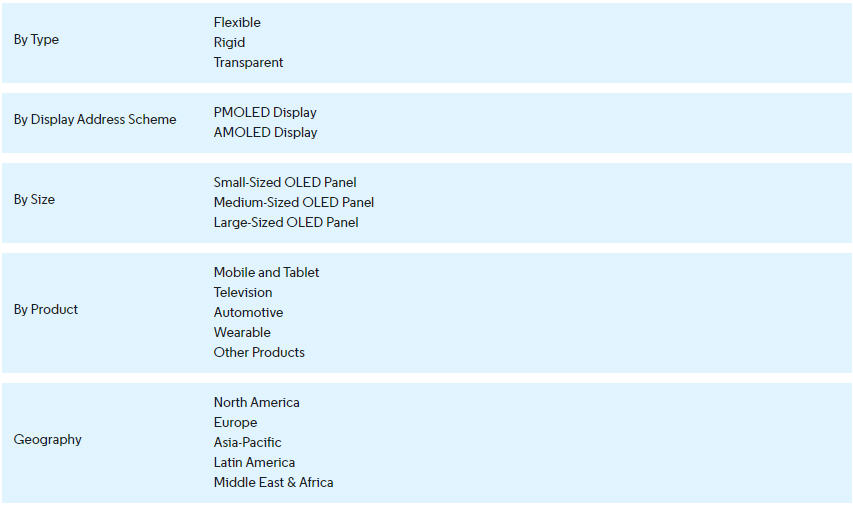 Amoled Display in Smartphone to Witness High Growth
An organic light-emitting diode (OLED) requires no additional backlighting and is emissive, due to which it overshadows the flat panel displays traditionally used in smartphones. Additionally, due to the superior properties like less thickness and bright output, mobile manufacturers have been increasingly incorporating AMOLED panels in their product, which is likely to drive the market growth.
An AMOLED uses a TFT which contains a storage capacitor that maintains the line pixel states, and enables large size and large resolution displays. In 2018, over 500 million AMOLED screens were produced, mostly to satisfy the demand from mobile phones vendors.
Apple, one of the biggest smartphone producers, in its latest product, iPhone X, has utilized flexible AMOLED with super retina display technology, which has compelled the shift in the smartphone industry. This is likely to exceedingly strengthen the adoption of these panels across the industry, thereby driving the market growth with a significant impact over the forecast period.
Additionally, Samsung Electronics, one of the leaders in the OLED panels market, incorporates AMOLED and Super AMOLED displays in most of its smartphones and is now focusing on flexible OLED panels than LCD.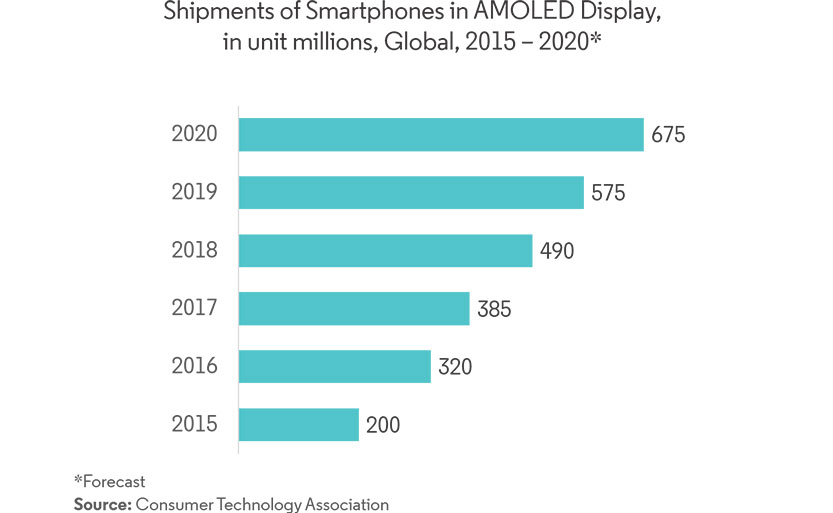 Asia-Pacific Occupies the Largest Market Share
Asia-Pacific is the biggest market for OLED panels as most of the key players, including Samsung, LG, AUO, Panasonic among others, have their base and major manufacturing facilities in this region. Additionally, several tablet vendors, TV manufacturers, and signage display manufacturers, and other vendors have their headquarters in the APAC region.
South Korea, despite its small size, currently has the most extensive network of academic R&D in OLED technology. The country has been witnessing huge investments, primarily from the electronics giants like Samsung and LG. Samsung has been investing an average of USD 5 billion per year for the development of OLED technology.
China is the global hub for manufacturing. The country is the largest exporter of consumer goods and is the fastest-growing consumer market in the world. China boasts of the world's largest television market. LG is planning to collaborate with the retailers and TV makers in China to expand its OLED panel business. The sales of OLED display panels is expected to grow exponentially in this region.
OLED lighting developer Luminescence Technology Corp (Lumtec), which is a manufacturer of organic chemicals, will unveil new OLED lighting applications at the China International Automotive Interiors and Exteriors Exhibition 2019. This will effectively increase the market growth during forecasted period.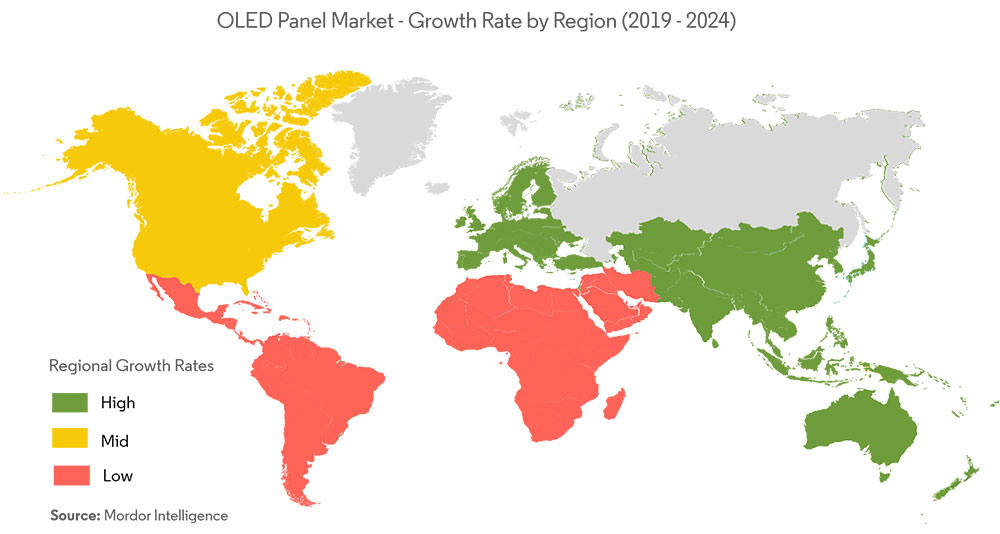 Competitive Landscape
The OLED panel market is highly fragmented and competitive because of the presence of many players conducting business on a national, as well as on an international scale. Also, panel manufacturers are investing in alternative technologies for various players which is showcasing a high rivalry among the players. The major players in the market are Samsung Display Co. Ltd, LG Display Co., Ltd, Sony Corporation, etc. Recent developments are -
Jan 2019 - Samsung Display announced that it has succeeded in developing a 15.6-inch UHD (3840 x 2160 pixels) OLED panel, one of the world's first UHD display for the notebook/laptop market. The company will begin mass-producing the 15.6-inch UHD OLED panel in 2019, initially for use in premium notebooks.
June 2019 - LG Display launched transparent OLED commercial display in the United States. This razor-thin see-through display is designed to deliver a special customer experience in commercial applications like retail and hospitality signage.