Our Story
BuyDisplay.com is a China-based global display manufacturer that has been a worldwide business in design, produce and sell various displays for small to large companies and includes many Tier 1 multinational corporations since 2003. Our old web site is lcd-china.com. We already dealed with about 100,000 inquires from customer around the world and found most customers had the same problems in purchasing displays. They're:
1.Takes too much time from inquiring price to placing order.

2.The number of displays are too many. It's difficult to find the most suited display promptly.
3.The user manual is too simple, the demo code and interfacing is unavaible from supplier.
4.No clear image to help them know well before purchase.
5.No accessoires used for display are on sale.
So we designed this web site buydisplay.com and wish it could be solutions for the above problems.
Our Service & Highlight
Engineering Capability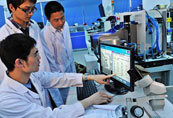 EastRising is committed to offering a wide range of LCD and OLED products in the same standard as required by the market to satisfy your requirements. We can not only supply all kinds of standard TN, HTN, STN and FSTN Dot Matrix LCD displays and OLED displays in SMT, COB and COG type but also custom design LCD and OLED displays for specialized applications. We have a highly trained R&D team to provide any expertise necessary and their resourcefulness for you. Our in-house design capabilities will transform your initial idea into the final product within a short time.
1.Injection Molded Plastic Parts
2.Multi-layer PCB Layout Design
3.LCD & OLED Design
4.Metal Casting
5.Software Development
6.Circuit Design
7.Test Equipment Design
8.Product and Component Evaluation
9.Prototype Development
10.Microprocessor Bum-in
11.Electronic and Mechanical CAD Design
Competitive Price
EastRising pays due attention to every details in order to ensure the most competitive price without any sacrifice of the quality, The competitive price here means the lowest price among knew clearly that the quality and the price are both important factors in your business.
1.We lower our purchasing cost by payment in advance, which is enabled by our fine financial status. This kind of payment terms brings us more recognition and larger discount from our selected material suppliers


2.We add value to our customers by being a volume purchaser of common components from our current suppliers.


3.We try to reduce the producing cost through improving the producing efficiency and quality rates by the strictly quality test, the standard employment training, the revolution of technology and the updated of facilities


4.We also try to lower the cost of management such as the widely exertion of Office Administration
Excellent Customer Service
EastRising has established effective and unique clients management and service systems based on the accumulated sales experiences. You can obtain an identity code and a corresponding file here. The trading process will be recorded entirely and given due attention. You can track through our salesman which stage your program has gotten into at any time. You can also get a list to check out periodically in case any unnecessary omissions and misunderstanding should occur.
On-time Delivery
EasRising offer on-time delivery because of
1.Powerful Producing Capability
2.Automatic Equipments
3.Methodic Schedules
4.Efficiency Stock Control
5.Good Cooperation with Worldwide Forwrders
6.Excellent Records in Local Custom
Producing Capabilty
EastRising has powerful manufacturing capability providing our labor, management and facility with space dedicated to your requirements on either a continuous basis or for time slots per month /quarter.
1.Business Type : Manufacturer / Exporter
2.Factory Area: 2500M2
3.Engineers: 17
4.LCD & OLED Display Capacity: 150,000pcs/Month
5.Module Technology: COB COG SMT TAB COF
6.Lead Time: 1-8 Weeks
7.FOB Ports: SHENZHEN CHINA or HONGKONG
8.Backlight Technology: LED EL CCFL
9.Display Type: TN-LCD ,HTN-LCD, STN-LCD, FSTN-LCD,FFSTN-LCD,TFT-LCD,OLED